> Story > Press Release
[Chosun Ilbo] People with disability have their own talents!
Date : 2012-04-02 Hit : 1,339
Seven young musicians with developmental disabilities on a performance tour at elementary schools
Graduates of arts colleges with developmental disabilities performed at Sanggye Elementary School and will visit 11 schools by the end of the year
It was 10:00 a.m. on March 29th 2011 at the auditorium of Sanggye Elementary School in Seoul. Seven young people in tuxedo and bow ties got on the stage with their instruments held close to their hearts. They are Heart Miracolo Ensemble made up by seven graduates of arts colleges and with developmental disabilities. A 400-audience of the school children filled up the hall before the musicians. They are the witnesses to the seven young men's first step into the society. The flutist, Lee Youngsoo aged 25 with level 2 intellectual disability made a shy smile when his eyes met those of one sitting in the audience.
It was now 11:00 a.m., and the concert is about to begin. The instructor snapped his fingers to give cues for each first note, and the members responded with their eye contacts. The members with developmental disabilities suffer from a symptom that keeps them from paying attention to other people and practiced the same music over 500 times for the concert today.
The audience responded with enthusiasm. An exciting applause and jubilant cheers burst out to the light cheerful melodies of Under the Sea. Clarinetist Kim Woojin, aged 23 with level 3 intellectual disability, moved his shoulders up and down to the beat, as if responding to such reception. High and low notes played by the flutes and trombones created thick layers of sound that reverberated throughout the auditorium.
The seven members of the Heart Miracolo Ensemble and seven students from Sanggye Elementary School played the

Radetzky

March in concert together. Ko Daein, 31, the instructor of Heart Miracolo Ensemble brought together the musicians and said, "bam bah bah bah bam bam bam! Let's try for one last time." The members brought their shining brass instruments to their lips, and the young students played beats with tambourines and triangles.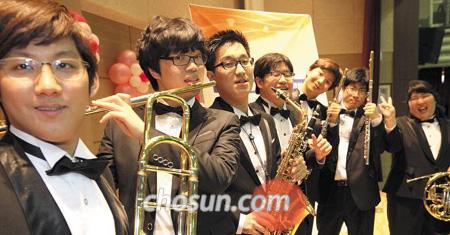 Beginning with the concert at Sanggye Elementary School on the 29th, the Ensemble is on a long-term tour to play at 11 elementary schools throughout Seoul. The concert tour is intended to give lessons for children that 'you should not harass your friends with disability' and that 'People with disability have their own talents." Lee Gangseok, a 13-year old student said, "I think my friend in the special education class will be as great as the musicians on the stage one day."
The musicians on the stage went through no small measures of difficulties in school. They were bullied for being in the "special education class" and had to fight with friends that harassed them. "I was deeply hurt whenever I was harassed by friends who teased by saying 'you can't even talk and you are weird,'" commented Bae Hyungyu, 28, with level 2 intellectual disability. With his eyes welling up with tears, he often asked his mom, "Mom, why do they harass me? Why do they call me retards?" Once he got into a big fight with a classmate who poked his back with a ballpoint pen, and then the teacher recommended that he transfer to another school. Bae's mom, 54, often told his son that "They will be better if you are nice to them," only to turn around and pound her aching heart. Hong Jeonghan aged 23 with level 3 intellectual disability was bullied and isolated during his middle school years because the students were often told that "you'll get reprimanded if you bully Jeonghan." Park Kyungjoo, 50, the mother of the saxophonist Lee Seong Min, age 23 with level 2 autistic disability, said, "My son was once pinched and punched by his classmates in secret and he came home all bruised. I am so excited today that my son is doing a tour around schools to perform in the concert."
Seo Jeomsoon, the mother of the flutist Bae Hyungyu played along with her claps in the corner of the auditorium. It was an exciting tone but she couldn't help with her tears. "My son's play never gets old and never fails to move my heart. People with disability could go on to get college education, have a job, and share their talents. I hope the young audiences understand that today."
☞ Link to Original Article