> Story > Press Release
Melody overcoming disability, resonated at Carnegie Hall
Date : 2018-10-10 Hit : 813
Last 24th(local time) at the reception hall of St. Regis Hotel in New York, US. Everyone paid attention in unison when the four members of Heart-to-Heart Orchestra Wooryun Song(20, violin), YoungSoo Lee(30, flute), Donggyun Kim(25, flute) and Dabin Kim(25, Cello) appeared on the stage. They are the participants of women leaders' conference for boys and girls in the world hosted by UNICEF. There were about 100 people including women leaders from many countries and the executive director Henrietta H. Fore. They had nervous face for a while but soon played expertly 'Tambourine' of Fran?ois-Joseph Gossec. The audience shouted "Encore!".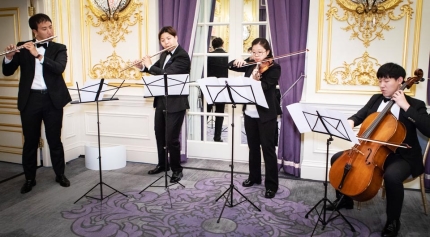 All of the members participated at the concert for UNICEF had developmental disabilities. Heart-to-Heart Orchestra is the first orchestra of the members having developmental disabilities founded by Heart-to-Heart Foundation in 2006(Chief Jicheol Oh) and consisted of 25 members with the age from 11 to 30. They went on concert tour from the 20th last month for 7 days in New York and Washington in US. They also played music at Carnegie Hall at Global Choir Concert hosted by New York CBSN.
On the 5th last month, the members and staffs I met in the office of Heart-to-Heart Foundation said, "We become impressive to think about US tour." Heeeun Kim, the senior manager of Culture and Welfare department, said, "There were many responses of how the disabled can play instrument when we founded the orchestra." Some officers of concert places shook their heads by saying "We can't accept them because of their low quality." But they gradually opened the doors with the spreading reputation of the orchestra's skill. The orchestra holds regular concert at Seoul Arts Center from 2013 annually.